1832 Majani Cocktail Experience
39.00CHF
NIO Cocktails und Majani 1796 sind mit einer sehr eleganten Zusammenarbeit zurück: Eine Box - zum Verschenken und sich selbst zu schenken - die Ihnen ein einzigartiges und unglaubliches Geschmackserlebnis bietet, dank des umhüllenden Geschmacks der Schokolade und der unwiderstehlichen Qualität der NIO-Cocktails. Die 1832 Majani Cocktail Experience Box ist der herbstliche Gemütlichkeitsaugenblick, der Ihre Aperitifs und After-Dinner einzigartig machen wird.
Key Ingredients:
2 NIO Cocktails 1832: Rum Carúpano | Liquore Bols "Crème de Cacao White" | Flüssigzucker | Bio-Zitronensäure

|
2 barrette Scorza Grezza Majani 90%
Der Cocktail 1832 ist nach dem Jahr benannt, in dem in Italien die erste feste Schokolade von der historischen Firma Majani 1796 hergestellt wurde, die dann in "Cioccolato Scorza" umbenannt wurde. Dieser charakteristische Cocktail wurde nach einem Rezept von Patrick Pistolesi entwickelt, um den Geschmack von Schokolade mit den besten Spirituosen zu verfeinern:
Carúpano-Rum
Bols "Crème de Cacao White" Likör
Flüssigzucker und Bio-Zitronensäure
"Scorza Majani" ist ein krümeliger Fondant, der nach einem Geheimrezept aus 4 Kakaomischungen und nach der alten Methode hergestellt wird, die die Schokoladenmeister von Generation zu Generation weitergeben. Um dessen Eigenschaften noch stärker hervorzuheben, entstand Scorza Grezza 90%, eine kalt verarbeitete Schokolade, die weder durch eine Conchier- noch eine Veredelungsmaschine läuft, um die Körnigkeit der Kakaomasse zu bewahren, die durch das Mahlen der gerösteten Bohne gewonnen wird.
Miscelato artigianalmente in Italia con i migliori spirits al mondo
We'll take you home or wherever you like, a high quality and exciting tasting experience. Treat yourself or give someone you love a wonderful sensory moment: our cocktails are created on the recipe of Patrick Pistolesi and shipped in a design packaging 100% recyclable,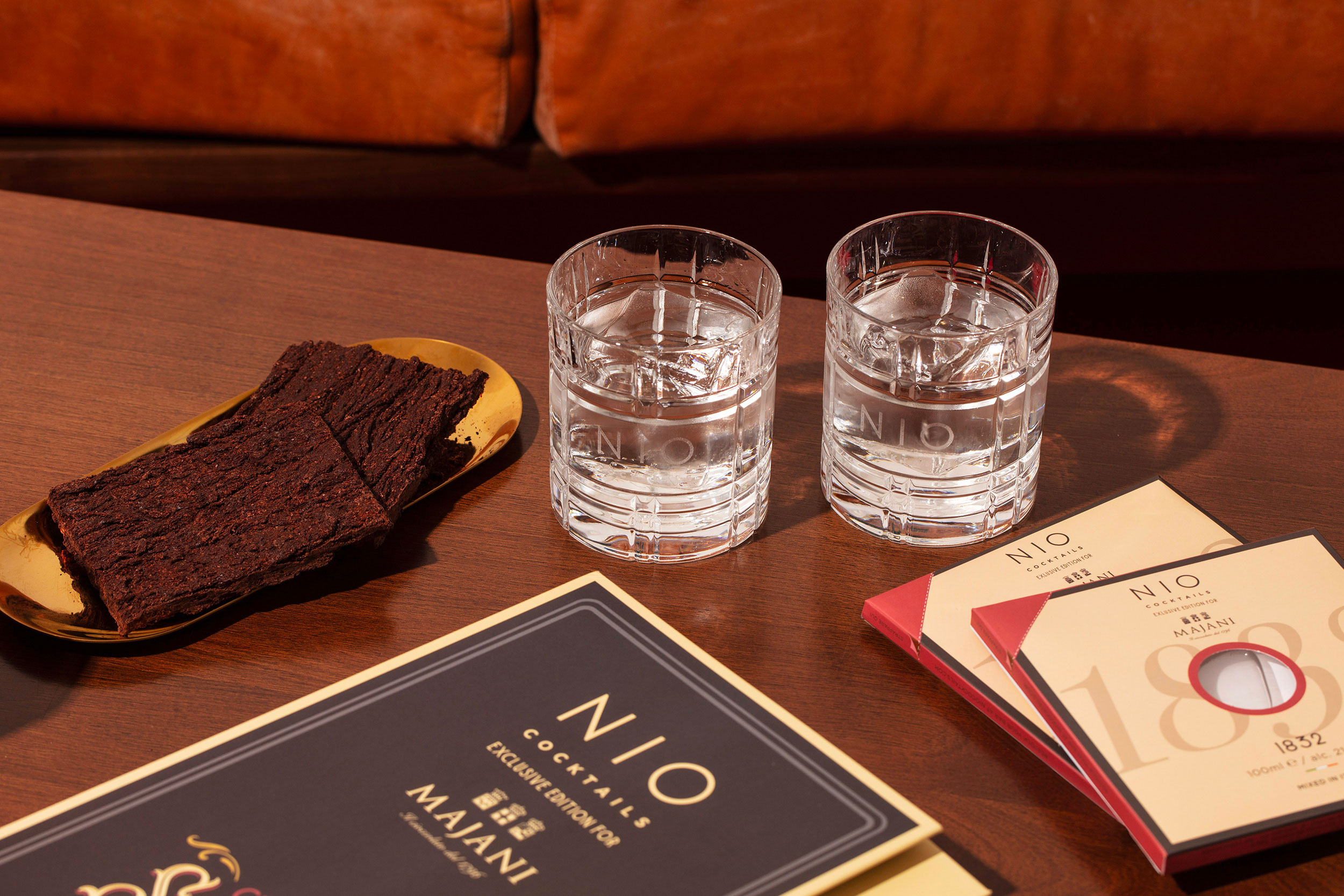 Majani und NIO Cocktails: Eine Qualitätspartnerschaft
Majani wurde 1796 in einem kleinen Geschäft in Bologna, Italien, gegründet und ist seitdem eine Referenz in der Welt der Qualitätsschokolade. Teresina Majani, Gründerin der ältesten Schokoladenherstellerfamilie Italiens, kreierte die ersten Köstlichkeiten des Urhauses. Im Jahr 1832 entstand die "Cioccolata Scorza" (die unsere Zusammenarbeit inspirierte) und im Laufe der Jahre wuchs die Popularität der Marke immer weiter an - auch in Verbindung mit dem Namen FIAT zu Ehren der Einführung des Fiat Tipo 4 (daher die vier Schichten). Heute wie damals stellt Majani 1796 seine Schokoladenmeisterwerke immer noch nach den traditionellen Herstellungsmethoden und dem alten, von Generation zu Generation weitergegebenen Rezept her. Das historische Know-how des Unternehmens spiegelt sich heute wie damals in der hervorragenden Qualität seiner Produkte wider, die nach wie vor den Gaumen der Italiener versüßen.