1832 Majani Cocktail Experience
39.00CHF
NIO Cocktails e Majani 1796 tornano con un'elegantissima collaborazione: una box - da regalare e da regalarti - che ti offre un'esperienza di degustazione unica e travolgente grazie all'avvolgente sapore del cioccolato e all'irresistibile qualità dei cocktail NIO. La box 1832 Majani Cocktail Experience è la coccola autunnale che renderà unici aperitivi e after-dinner.
Key Ingredients:
2 NIO Cocktails 1832: Rum Carúpano | Liquore Bols "Crème de Cacao White" | Zucchero Liquido | Acido Citrico Bio

|
2 barrette Scorza Grezza Majani 90%
Il cocktail 1832 prende il nome dall'anno di creazione del primo cioccolato in forma solida in Italia da parte della storica azienda Majani 1796 - che storicamente è stato ribattezzato "Cioccolato Scorza". Questo signature cocktail nasce da una ricetta di Patrick Pistolesi, pensata per esaltare il sapore del cioccolato con i migliori spirits: il Rum Carúpano, il liquore Bols "Crème de Cacao White", zucchero liquido e acido citrico bio. La "Scorza Majani" è un fondente friabile creato con una ricetta segreta di 4 miscele di cacao ed è prodotta con l'antico metodo che i mastri cioccolatieri si tramandano di generazione in generazione. Per esaltarne maggiormente le caratteristiche nasce la Scorza Grezza 90%, un cioccolato lavorato a freddo, senza passaggio né in conca né in raffinatrice, per conservare la granulosità della pasta di cacao ottenuta dalla macinazione della granella tostata.
Miscelato artigianalmente in Italia con i migliori spirits al mondo
We'll take you home or wherever you like, a high quality and exciting tasting experience. Treat yourself or give someone you love a wonderful sensory moment: our cocktails are created on the recipe of Patrick Pistolesi and shipped in a design packaging 100% recyclable,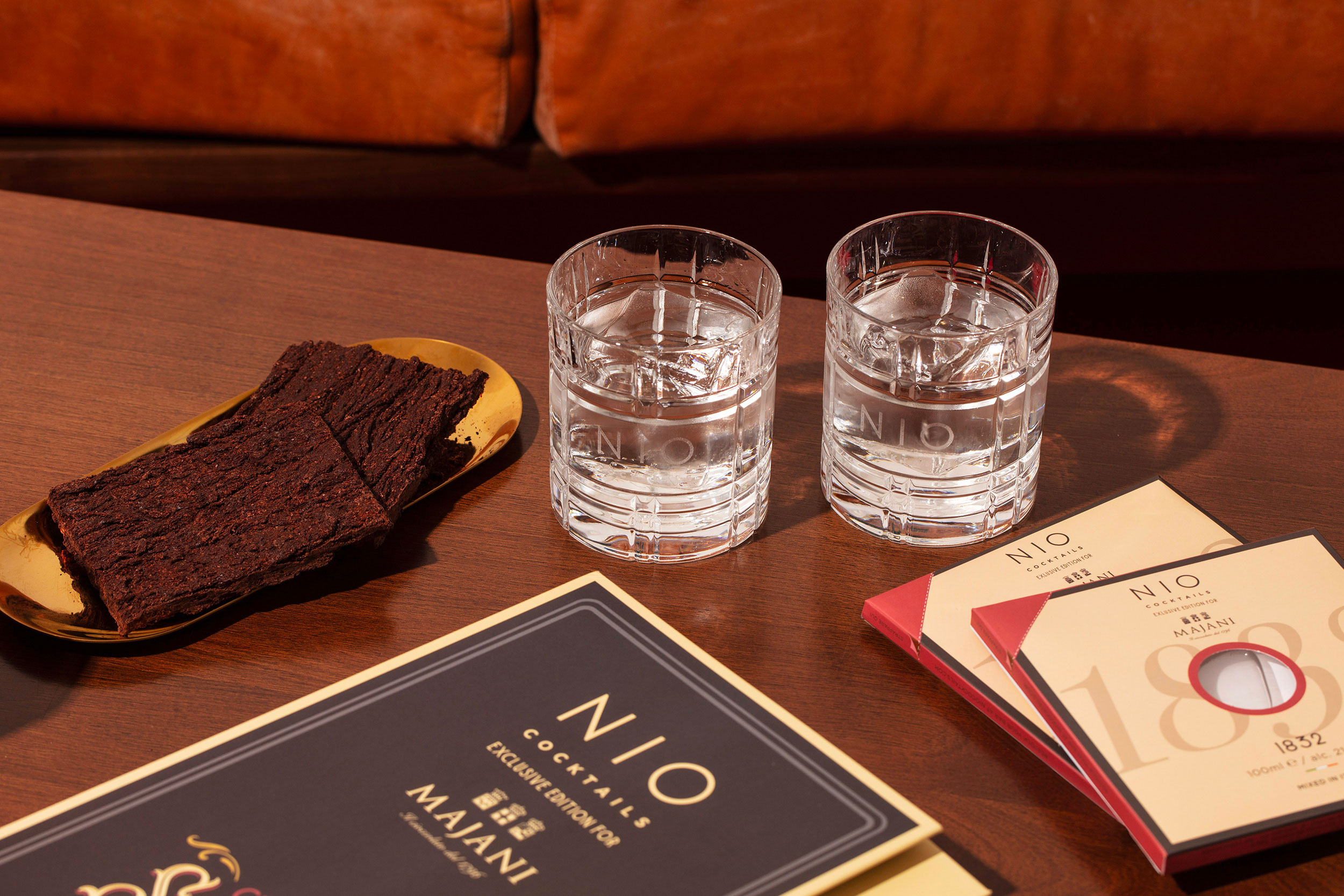 Majani e NIO Cocktails: un binomio di qualità
Majani nasce nel lontano 1796 in una piccola bottega bolognese, in Italia, e è da sempre un punto di riferimento per il mondo del cioccolato di qualità. Teresina Majani, capostipite della più antica famiglia di cioccolatieri in Italia, realizza le prime delizie dell'Antica Casa. Nel 1832 nasce la "Cioccolata Scorza" (a cui è ispirata la nostra collaborazione) e negli anni la popolarità del brand cresce sempre di più - anche associando il suo nome a quello di FIAT in onore del lancio dell'automobile Fiat Tipo 4 (da qui i 4 strati). Oggi, come nel passato, Majani 1796 realizza i suoi capolavori di cioccolato seguendo tuttora i metodi di produzione tradizionali e le antiche ricette tramandate di generazione in generazione. La storica expertise dell'Azienda si riflette oggi come ieri nell'eccellente qualità dei suoi prodotti che continuano ad addolcire i palati degli italiani.